The Importance of Link Building for SEO
Link building remains a vitally important part of SEO and has a strong correlation with first page rankings. The setting of link building and SEO is ever-changing, and in SEO today, high-quality link builds are more important than ever before. If you are going to be in competition with others and for your business to strive online, having high-quality links are is essential.
What is Link Building?
Link Building is a simple process of getting other websites hyperlinks to link back to your own website. A link is the best way a user can swiftly move between pages on the internet. To drive traffic and increase the site's authority, any business owner or marketer should be interested in building links. Googles algorithms are ever evolving and complex, backlinks will determine how sites rank with relevant keywords. Links are used by search engines to crawl the internet, they will crawl individual pages and the entire websites also. It is imperative to use links in an SEO campaign in order for you to gain trust and achieve high search rankings. If you can crack the art of link building, you can put yourself ahead of the game.
Backlinks are important for SEO
Understanding a hyperlink
Firstly, it is important to know the basics of how links are created and how search engines interpret and see the links on search engines.
The beginning of the Link-tag:
This is referred to as the anchor tag. This will open the link tag and will let the search engines know that there will be a follow-on link to something else.
"HREF" stands for "hyperlink referral". In the link, it features text which shows the URL. The text isn't always a webpage, it can also be an address of a file or an image to download.
Anchor text/visibility of the link:
Anchor text is the content that is visible to the user and gives the indication that you can click on it to open it. The content is generally in the colour blue or underlined to help it stand out to the user and it also indicates that you can click on it.
This sends a signal to the search engines that the link-tag has ended.
What links mean for search engines
Search engines use links in two fundamental ways:
1. Helps determine the page ranking results
2. To discover new web pages
For search engines to extract content from web pages, they must crawl the web pages and then add the content to the index pages. By doing this, they can figure out if a page has the right quality for it to be ranked for the keywords that are relevant to it. Google not only looks at the page content but they also check for the link numbers pointing to the certain pages from websites that are external and also the external websites quality. The more high-quality websites that link up with you, the better you will rank in search results.
In the late 1990s, links became an important part in webpage rankings and it also allowed Google to take over the search engine market. Larry Page one of Googles founders invented page rank. Page rank measures the page quality based on the link numbers that are pointing to it. This then gives the answers to the overall algorithm rankings. In recent updates, Google has penalised many website rankings for overuse of optimisation techniques in their link building. If you use high-quality links to your website, there is no doubt that you will achieve better rankings and get much more traffic to your website.
The No Follow Attribute
The no follows attribute can be adapted to links, if you are the user you will not notice much difference but the code itself will look a bit different. The rel="no follow" lets Google know not to pass any page rank across the link to the target URL. Basically, you are telling Google not to trust the specific link. A site may use the no follow attribute in relation to specific scenarios in which that site lacks control over the links that are added to its page. Here are some common examples:
Forum posts
Blog comments
Editable Wikipedia pages
Guest post signatures
Answers on Yahoo
Guest book comments
Links can be added by the user freely to many different places. To stop link spamming from taking over a sites page ranking, the website will then use the no follow attribute to all the links. Advertisers should make use of the no follow attribute on the links that have been paid for. If you buy an advertising banner on a website which links to you, then the no follow should be applied so Google knows not to pass any page rank to that link.
The benefits of Building Links for your business
As we have discussed above, your rankings can significantly increase with high-quality links pointing to your website. However, the other benefits of link building include:
Link building involves reaching out to other relevant blogs and websites in your industry. This often relates to something that you promoted or that you recently created such as an infographic or content. Building long term relationships with key influencers is what will make your business become highly regarded and trusted in this industry. These relationships are very valuable to you and your business.
If the website is relevant to yours, then the chances are the traffic will be relevant also and this may increase your sales. It is important to remember in business, it is about the customers and the value of a link isn't just about SEO.
With a good link building campaign, it can help establish you as an authority in your niche and help you build your brand. Show people the expertise of your company as this will go the long distance with building your brand.
Link earning vs link building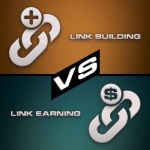 Before you begin link building, a page of good value is needed to build links to, your website homepage is a good place to start. You can also build links to resources that are specialised such as a graphic or research study, blog posts or tools. Every campaign for link building must have something worth linking to from the start. Low-value websites can be quite difficult to link to so you must begin with valuable links that people will find worthy of sharing or useful. Quality links are more important than ever.
Contact Ireland SEO today for an effective and sustainable link building campaign that will increase your rankings!